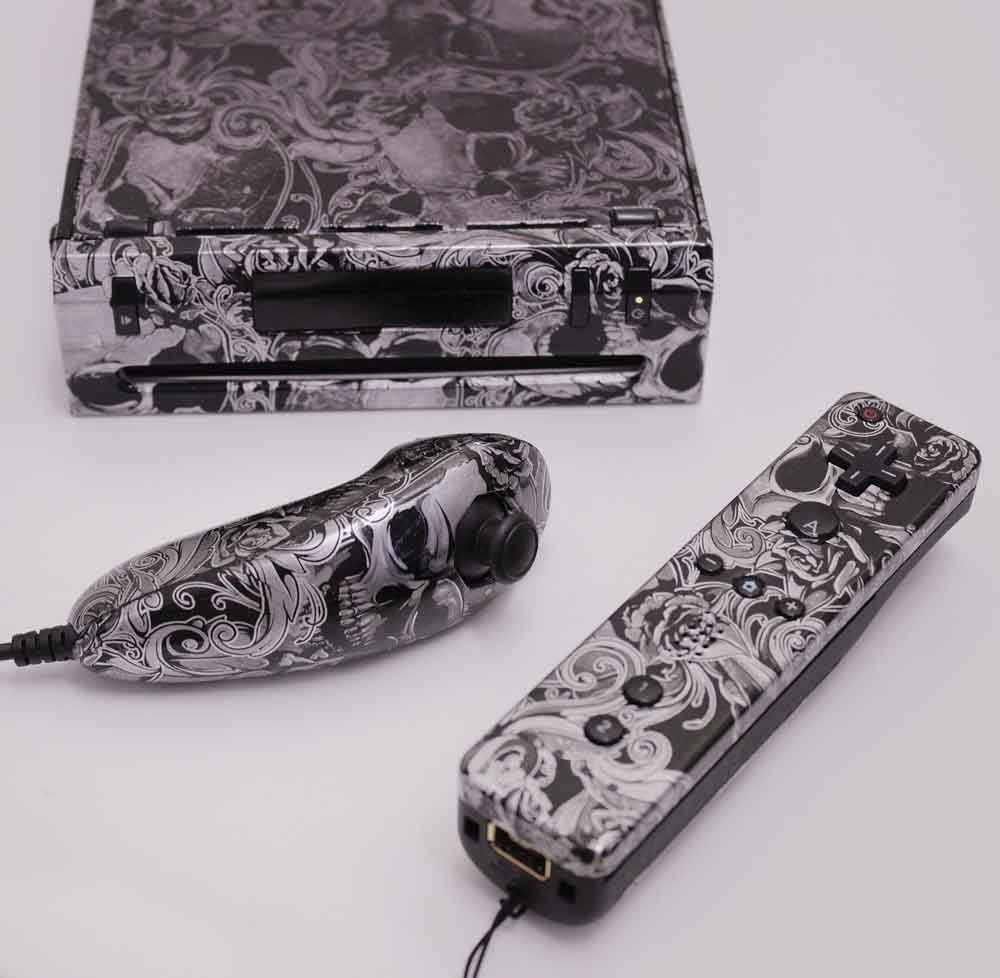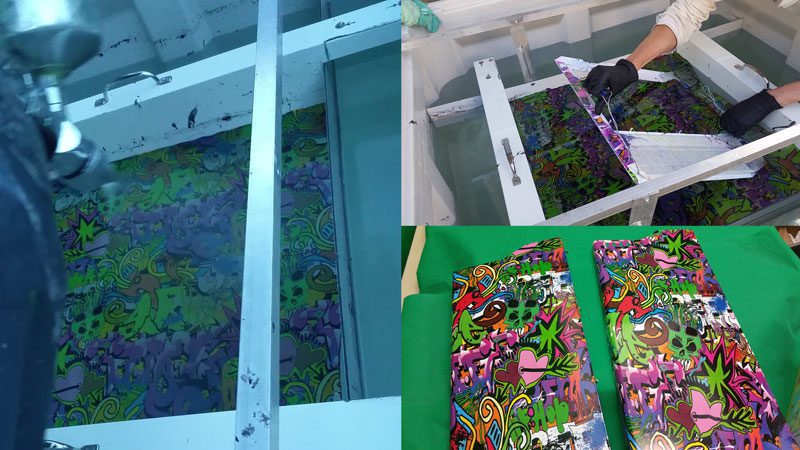 Note that for PC cases, we will only dip new cases

purchased from us

.
For gaming consoles (PS/Nintendo/XBox), the opposite applies – we only accept new casings (at our discretion)

provided by you

, however, we require that you disassemble and post the pieces to us, securely packaged, prior to approval. In the case of consoles, please retain all electronic components; we do not need them. We reserve the right to refuse any job if these conditions are not met, or if the pieces are deemed of inadequate form on arrival.
Our unique services
Exclusive to us — decorated PCs and gaming consoles.
Order your customised goods today with a range of unique skins to choose from, and a choice of a glossy, matte or candy finish:
Hydro- what?

We can take a PC case or a gaming console (e.g. XBox One, Nintendo Wii U, PlayStation 4, or legacy consoles), and hydrodip it, based on a selection of designs you can choose from (or BYO).
Hydrodipping is a form of manual printing requiring great skill, where designs are transferred from a film onto complex 3D surfaces on the surface of water. It is distinct from other forms of commercial printing because it results in much more vivid and very highly-resolved images.
Hydrodipping is not to be confused with vinyl wrapping, which is a service we do not currently offer. As opposed to vinyl wrapping, hydrodipping provides a true and permanent modification to the surface of products.
Services in Depth
Our hydrodipping services are ideal for turning any pedestrian, plain-looking mass-produced product into a stand-out product. We specialise in modifying gaming consoles and PC cases. We use the same paint and techniques used to modify performance or luxury cars, which means quality and durability to excess. We can handle orders of 1 — 20 units at a time. Larger jobs can be negotiated, but it would depend on the complexity of the job and the workload that translates to.
Contact us
to negotiate a job.
In summary, what we offer:
Hydrodipping customisations for PCs and gaming consoles
You have 2 options:

Send your own custom design to us – possible, but costly to for us to do at low volumes for individuals. If you are a company wanting to replicate one design on many pieces, this is much more cost-effective. To BYO, you will need to be able to provide us with an editable vector graphic in the form of an .ai file (preferred), or EPS, PDF or SVG. Please contact us for a quote.
Choose a design from our collection – most individuals opt for this option, as while it costs to achieve, represents a sweet spot in terms of pricing and wow factor.
What we do not offer:
Painting a design on by hand, one stroke at a time – you would need to privately commission an artist to do this; this is not something we offer.
Graphic design services. For the most part, we either use pre-existing designs in our collection, or one that you bring. At this time, we can't design skin art specifically to order. Perhaps in future, we may expand our offerings to include graphic design services, but not for the time being.
We will not modify your existing console/PC – you need to purchase a new console/PC from us to be eligible for this service.
Common uses for our services include:
Personalisations (popular among gamers and hardcore computer users)
Customised gifts (for that wow factor)
Business branding and logos
Sporting and national advocacy (to show you're a fan or supporter!)
Seasonal and holiday decorations
Skin options
Designs we currently offer include:
| SKU | Image | Name | Categories | Price | Buy |
| --- | --- | --- | --- | --- | --- |
Console options
Console Options
Price excludes cost of service, shipping and any applicable transaction fees — it's reccommended to pay by bank deposit to avoid transaction fees.
Case options
Case Options
Note: some case models may appear multiple times, priced differently, as stock comes from different suppliers – feel free to pick the one that suits you.
Price excludes cost of service, shipping and any applicable transaction fees — it's reccommended to pay by bank deposit to avoid transaction fees.
| SKU | Image | Name | Categories | Price | Buy |
| --- | --- | --- | --- | --- | --- |
Pricing
Pricing:
| Service/Product | Pricing |
| --- | --- |
| Console Re-colour | Cost of console + $300 + shipping |
| Console Hydrodipping‡ | Cost of console + $400 + shipping |
| Console Hydrodipping PLUS candy finish‡ | Cost of console + $500 + shipping |
| PC Re-colour† | Cost of PC Case/PC + $250 + shipping |
| PC Case/PC Hydrodipping†, ‡ | Cost of Case/PC + $350 + shipping |
| PC Case/PC Hydrodipping PLUS candy finish†, ‡ | Cost of Case/PC + $450 + shipping |
† A discount of $30 applies when you purchase a complete system from us (CPU + MB + RAM + PSU + case + storage). As an additional bonus, we can assemble your system for free — this is optional, as you can still have all the components sent to you if you want to assemble the system yourself.
‡ BYO fee of $150+ will also apply if you bring your own custom design, to cover our custom film production cost.
To be eligible for our hydrodipping services, you need to purchase either a console or PC case (just the standalone case, or a whole PC system with components included) from us. This will be the console/PC case that we hydrodip for you.
accepted:

To avoid transaction fees, please use Direct Bank Transfer as your payment method.

Shipping/More info
Shipping
We ship Australia-wide from Sydney using tracked courier services. Contact us to get a shipping quote. Insurance cover for the transit of goods is available on request – omit at your own risk.
Turn-around time
Hydrodipping takes up to 2 weeks and includes adequate curing time to ensure the best quality outcome for you. We can expedite the process to meet your schedule; this would be negotiable for an additional cost.
Other notes
In the case of PC cases, for the best results, we suggest you choose from our selection in the tab above (switch to tab). Or, if you want to leave the decision to us – simply let us know if you want an mini-ITX, ATX mid or ATX full tower.
The alignment of patterns/designs will be unique for every job, since they are applied by hand. All images are provided as approximate likenesses only.
Place your order now
We can get busy at times, so please place your orders in advance, especially if you want it in time for a birthday occasion, etc. We can negotiate and email additional designs if you require.
Contact us for any further questions or to place your order now.